Do you know what is an overhead crane? Well, this is an equipment that is used for lifting and transporting heavy material in a factory, warehouse, as well as in a workshop and has both single girder and double girder types. It's designed to travel on the rail of the building or supporting structure. There's a crane that resembles this and is called a gantry crane. and has two supporting legs and can be used for indoor/outdoor lifting and transporting work. Our company has years of experience in designing and producing industrial devices, such as a marine winch, construction winch, overhead cranes, travel lift, steel structure, flat transfer cart, gantry crane and smart car parking system. Cranes can be grouped depending on various factors such as ton and girder.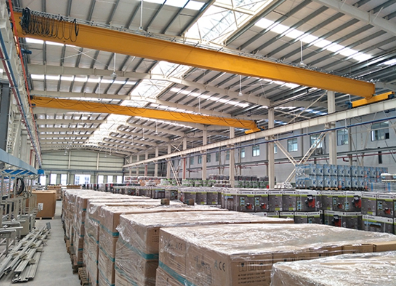 Classification according to tons
The growth of technology and science has enabled many crane manufacturers to adopt the tonnage of overhead cranes. Cranes are now manufactured according to the tons of load they carry, such as:- the 5 ton overhead crane
Let's briefly look at the 5 ton overhead crane
5 TON OVERHEAD CRANE
This is a light duty type of lifting equipment that can be used in different industrial sites and it's able to meet the customer's requirement of carrying loads up to 5-ton. It's suitable for places requiring low lifting capacities such as warehouses, assembly line, and workshops. The crane is economical, reliable, durable, safe and has a high-performance level. Mostly used in indoor occasions.
Types of 5 ton overhead crane
These can be classified into singer girder and double girder 5 ton overhead crane
(1). 5-ton single girder overhead crane types include:
. LD Type – for common use
. LDY Type – for molten metal
. LB Type – for explosive mixtures and gas
. LDZ Type – for bulky goods/materials
. LX Type – This is an underhung crane
. HD and European types
(2). 5-ton double girder overhead crane types include:
. QD Type – used in different applications
. QZ Type – for bulky items/materials
. QC Type- it's a magnetic crane
. YZ Type – for liquid ladle
. QB Type – for explosive and flammable materials
. NLH Type
Major components of the 5 ton overhead crane
Steel/body structure

Crane traveling mechanism

Lifting mechanism

Trolley traveling mechanism
General features of the 5 ton overhead crane
(1). It's lightweight, made of durable materials and a long life of service
(2). Excellent design with simple structures, that is, modular design
(3). They're equipped with a reliable safety protection
system
(4). High level of efficiency
(5). Stable performance and elegant appearance
(6). It's easy to install and operate
(7).Easy to maintain and transport
Factors to consider when buying this crane
(a). Background of the supplier- Check their records and reviews from their previous clients to understand their credibility.
(b). The company's certification and manufacturing practices- Ensure it's ISO certified
(c). The weight lifting capacity of the crane
(d). Size, that is, both height and base area
(e). The movement mechanism of that crane
(f). Installation cost and safety
(g). Durability, maintenance cost, and operation cycle
Some other types of equipment that you should consider having in your factory, warehouse, material yard or even your workshop include:
(a). The marine winch which would be very suitable if your warehouse is located near a water body like a port. It's mainly used on a boat, shore, a port for anchoring, fixing, mooring or towing winch.
(b). Another facility is the construction winch which can be applied in pulling/lifting loads within an industrial site, factory, warehouse, or in a mine.
(c). Also, the travel lift that is used for lifting the boat from the water, putting the boat into the water, transporting the boat on land, or for maintenance work.
If you planning on expanding your warehouse or some parts of the factory, selecting the right construction material will ensure durability of your structure. The steel structure is a kind of light material for building factory, warehouse and It makes the building process simple, fast and safe. You may also add a flat transfer cart in your factory/plant to assist in transporting steel plate or other material.
Additionally, You can expand your firm by building some structures in that area that you have set aside for parking. This would be possible if you installed a Smart car parking system which would save much land area and parking time.